The construction of every new building should include fire safety as a key focus – not just in terms of fire prevention, but also with consideration to fire safety and management, should the worst happen. This is especially true when the building is a large office block or perhaps housing many people. Andy Walsh, Technical Manager of Pyroplex - manufacturer of fire containment products - discusses the key issues around the effective specification and installation of fire doors and seals in this situation.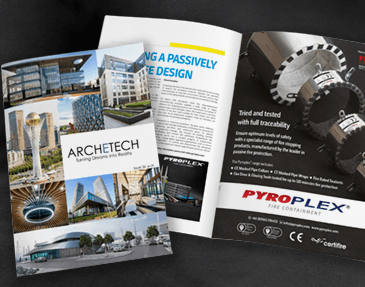 As building designs become more ambitious and certainly more complex, architects and specifiers must pay attention to the effective inclusion of passive fire protection measures if the building is to protect lives and minimise costly damage, should the worst happen.
We effectively manage risk in our lives on a daily basis; whether it's putting a car seat belt on or choosing a safe place to cross the road. But when it comes to entering a building, we put some of that responsibility into someone else's hands. Should a fire break out whilst we're in that building, the pace of its spread will be greatly determined by the effective compartmentation
At the forefront of the passive fire protection industry, Pyroplex Ltd is a powerful force, offering a wide array of technically advanced fire seals and fire stopping products, proven with a wealth of testing data and third party approvals.
There's no doubt that to achieve optimum levels of passive fire protection in construction requires a full understanding of the testing and certification that is necessary for components specified, in addition to the use of fully trained installers and contractors.
The Reddiplex Group has been awarded certification against the 2015 revised standards for the ISO 9001 – Quality Management System and ISO 14001 – Environmental Management System.